Crypto Raiders Newsletter 4/4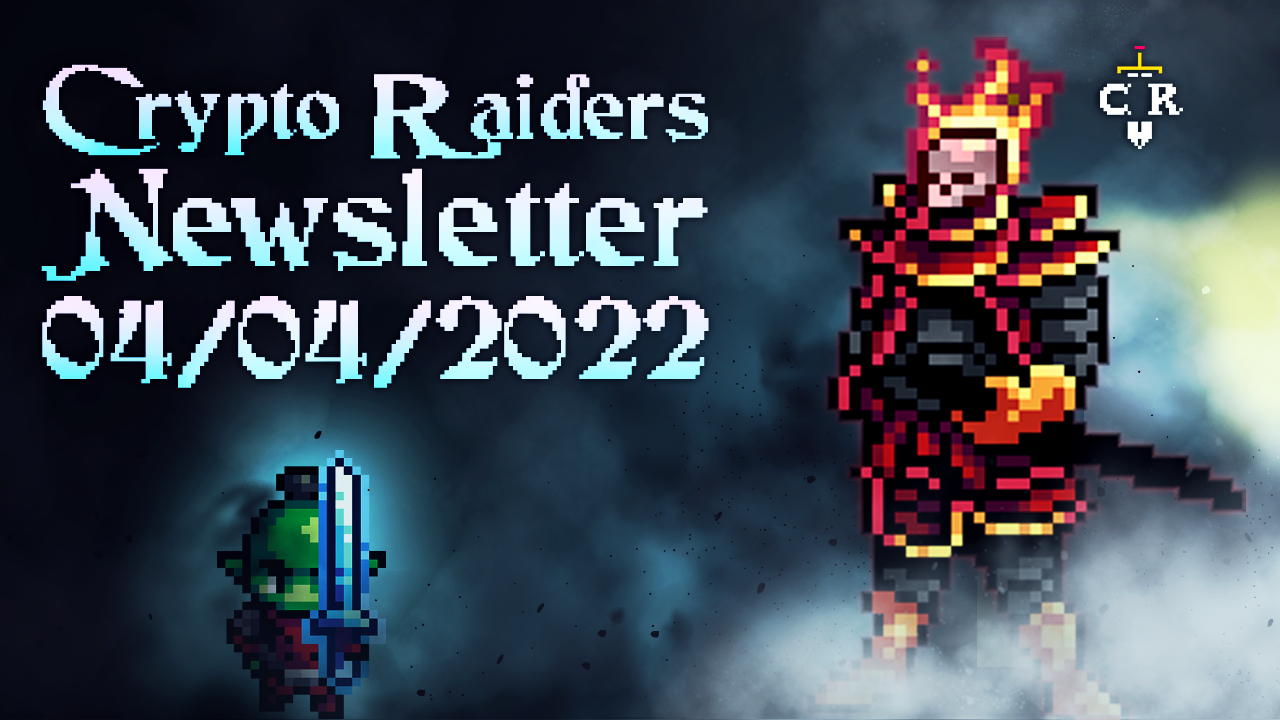 Game News

We announced a partnership with Delphi Digital, DeFiance Capital, and others in a press release on 3/30. The founding team also doxxed and briefly addressed the community in a YouTube video shared on Discord.
The traveling item merchant, Lazarus Darkshade, is coming to Airium this week, and users will be able to sell their best items for $AURUM rewards!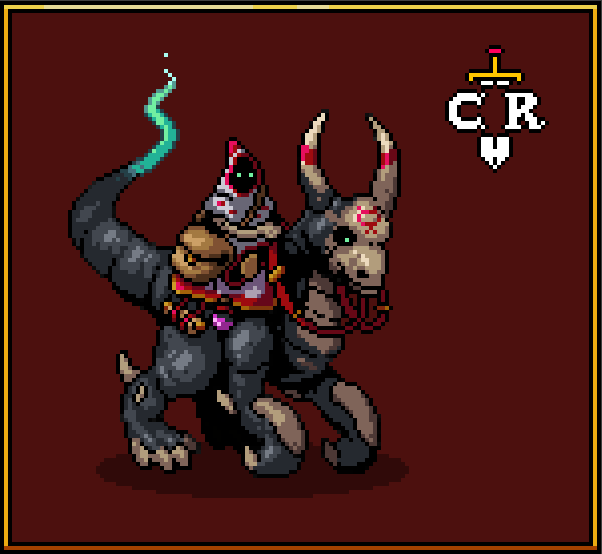 Abilities testing is underway, and we plan to launch to the community on Friday.

Community News

MerrickMoon will be hosting an interview with Nat Eliason discussing questing,staking, professions, and more on his stream tomorrow, 4/5/22 at 2 PM EST.
In order to spread PvP prize winnings to a larger percentage of the community and increase the fairness of tournaments, we are switching over to swiss style tournaments moving forward and expanding the prize pool payouts to the top 16 finishers in each tournament. Our Guild v Guild tournament announcement will be delayed until next week as we transition to this new tournament format.
Lang1y will be hosting a community roundtable stream with Captain Kix on April 7th at 8 PM EST at https://www.twitch.tv/cryptoraiders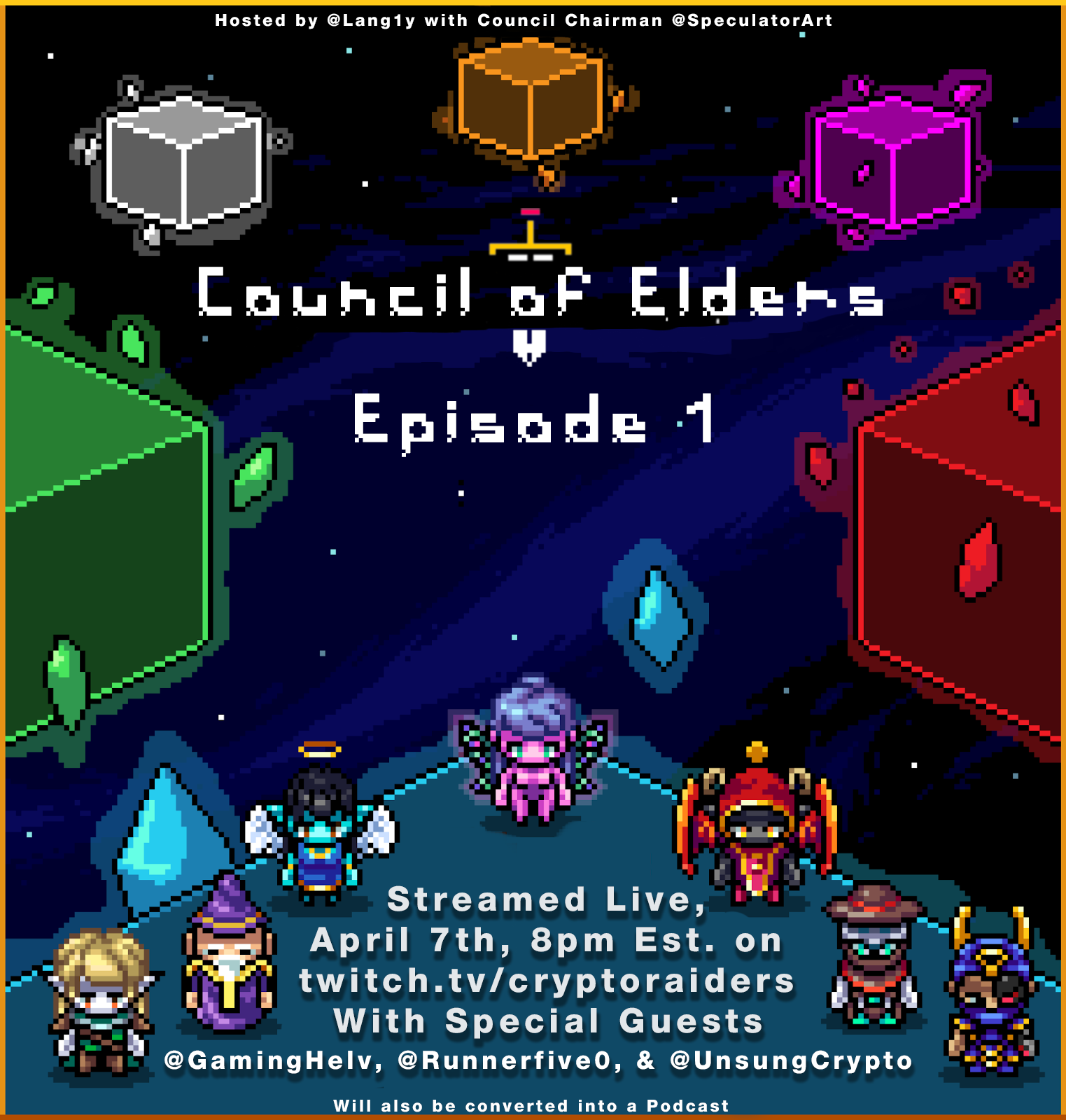 Twitter Followers: 27,689 (6% increase)
Discord Members: 20,450 (3% increase)

Economic News

All MOBS holders on 4/1 at 9:05 AM PST  were airdropped $AURUM rewards on Sunday, 4/3.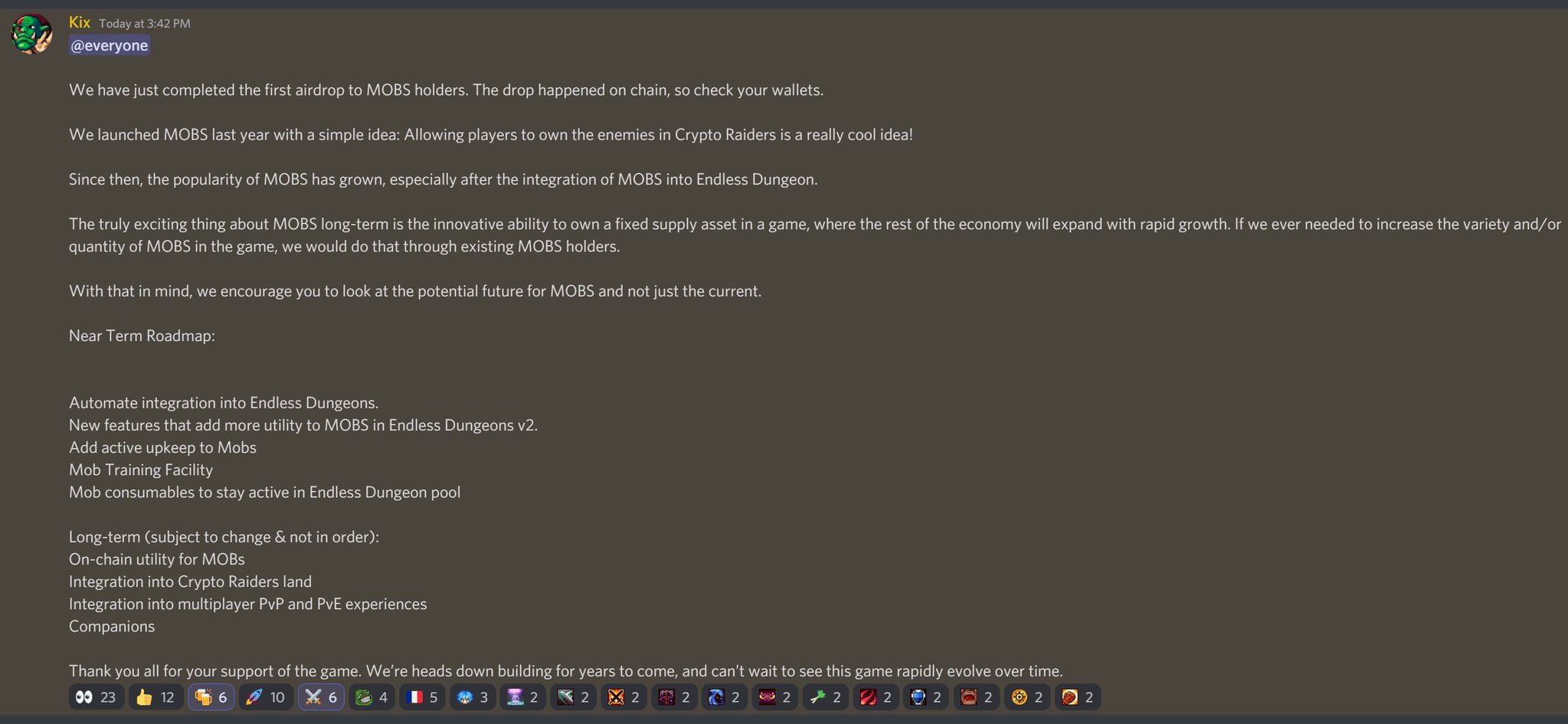 Basic Health Potions are now usable in game!
The $RAIDER staking pool has $40.2 million locked, and $22.2 million locked in the four Liquidity Pools.


Unique Holders Raiders: 5,119 (4% increase)
Unique Holders MOBS: 1,572 (1% increase)
Unique Holders Mounts: 534 (2% decrease)
Unique Holders $AURUM: 4,247 (13% increase)
Unique Holders $RAIDER: 3,527 (9% increase)
Floor Price Raiders: .03 ETH (20% increase)
Floor Price Gen 1 Raiders: .26 ETH (86% increase)
Floor Price MOBS: .098 ETH (2% decrease)
Floor Price Mounts: .12 ETH (No increase/decrease)
Current price $AURUM: $.0307 (1% decrease)
Current price $RAIDER: $4.47 (20% decrease)
7 day Volume Raiders: 57.31 ETH (185% increase)
7 day Volume MOBS: 43.08 ETH (13% decrease)
7 day Volume Mounts: 6.53 ETH (129% increase)