Crypto Raiders Weekly Newsletter 1/31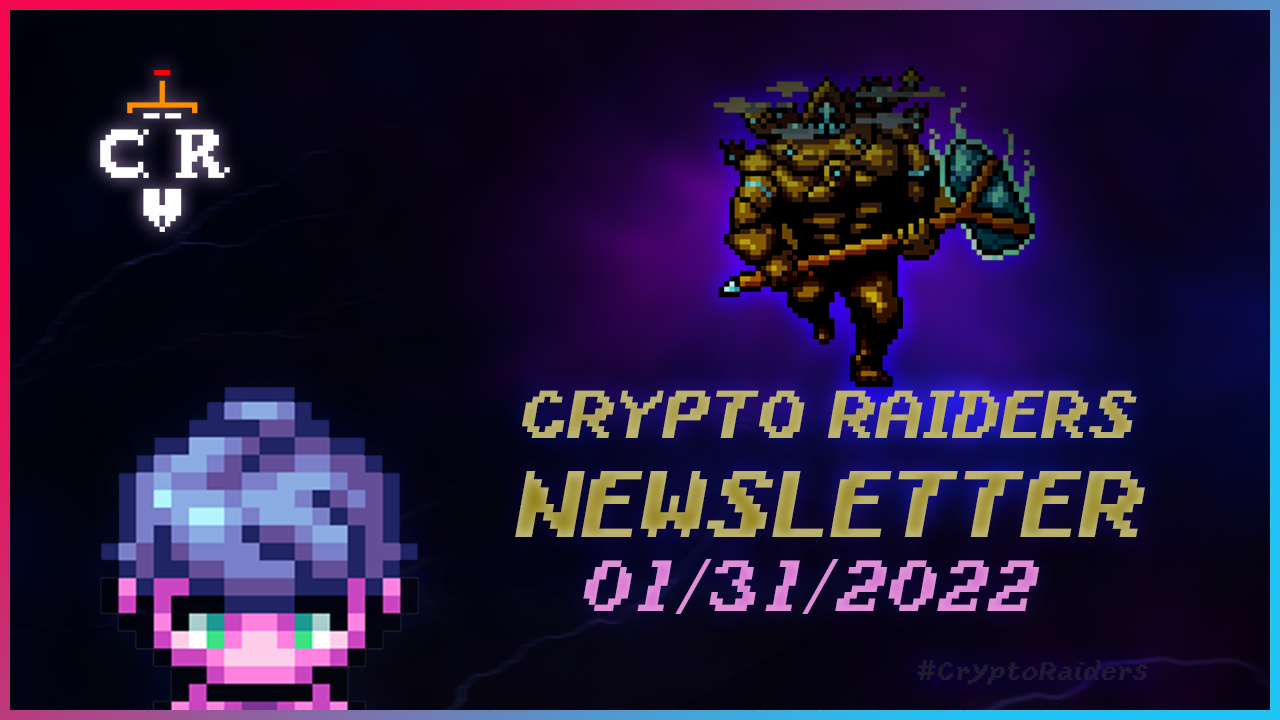 Game News

The final MOBS art drop is here! This WENsday, the last batch of art will be uploaded to OpenSea. Make sure to check out all the amazing art on the uniques!
The Endless Dungeon testing period will be extended for another one to two weeks while we finalize some backend changes. After the testing period, passive rewards will go live for MOBS!
We are moving to a new tournament hosting platform starting in February, communitygaming.io. The platform allows winners to immediately collect their prizes at the conclusion of each tournament, and centrally stores all tournament events/data in one location. Another fun feature is that Community Gaming allows for not only us to host CR tournaments, but any community member as well.

Community News

Our Fan Art contest has now entered the voting stage! Head over to our Discord and check out the #fan-art-vote channel to let us know your favorite. The winners will receive Orc's as prizes! Winners will be chosen Friday, 2/4 at 5:00 PM CST.
We will be having a CR community poker night, this Friday, 2/4 at 8 PM CST. To play, you will need the ClubGG poker app downloaded on your phone, tablet, or PC. Announcement will follow this week with details on the room ID, check in time, and prizes for winners.

Twitter Followers: 23029 (3% increase)
Discord Members: 18941 (5% increase)

Economic News

Alchemy is almost ready for release, and should be ready in the next 1-2 weeks! This will allow players to combine their materials earned in questing into Health Potions that will be usable in-game.
$RAIDER and $AURUM were both up this week, sitting at $4.68 and $.0358 respectively
There is currently $44.2 million staked in the $RAIDER pool and $23.2 million staked across the four liquidity pools.

Unique Holders Raiders: 3783 (3% increase)
Unique Holders MOBS: 1523 (1% decrease)
Unique Holders $AURUM: 3013 (3% increase)
Unique Holders $RAIDER: 2898 (1% increase)
Floor Price Raiders: .096 ETH (18% decrease)
Floor Price Gen 1 Raiders: .36 ETH (5% decrease)
Floor Price MOBS: .17 ETH (11% decrease)
Current price $AURUM: $.0358 (17% increase)
Current price $RAIDER: $4.68 (18% increase)
7 day Volume Raiders: 107.33 ETH (22% decrease)
7 day Volume MOBS: 17.02 ETH (70% decrease)
7 day Volume Mounts: 31.64 ETH (25% increase)